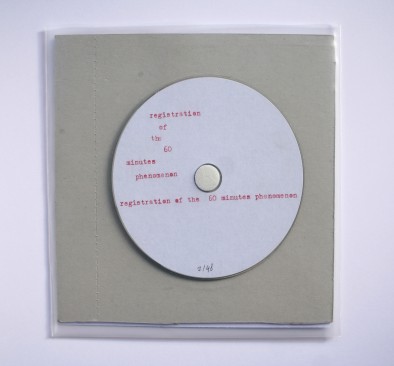 Trail made by our cat in the summer of 2010 by walking the same route repetitively.
Registration of the 60 minutes phenomenon in 2008.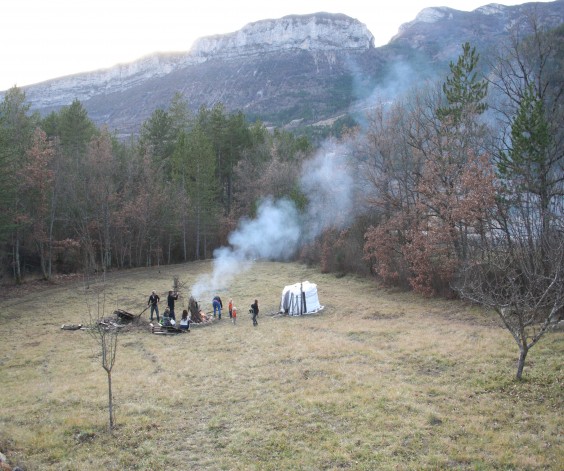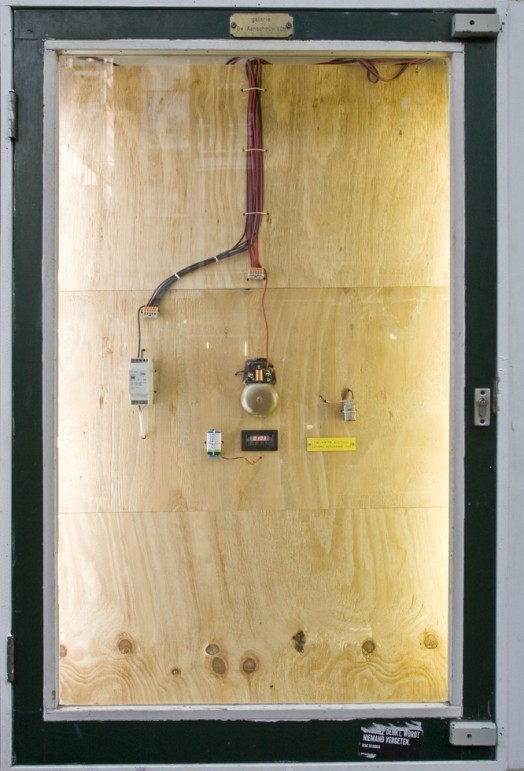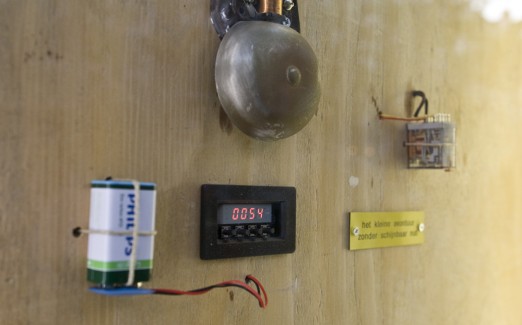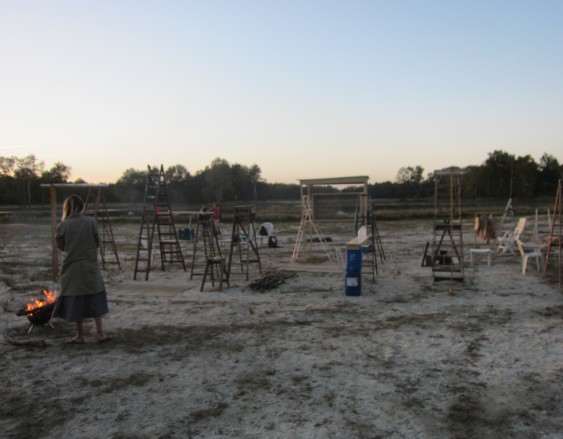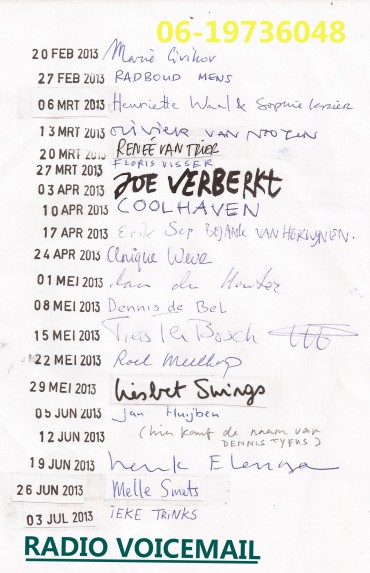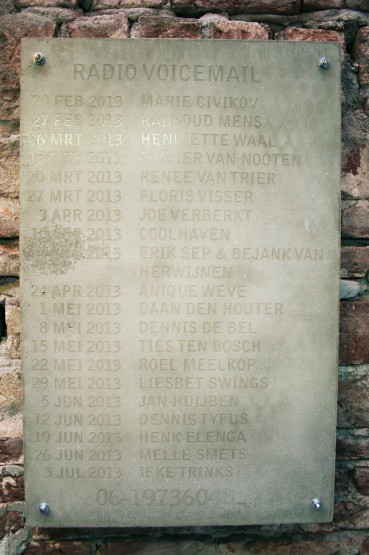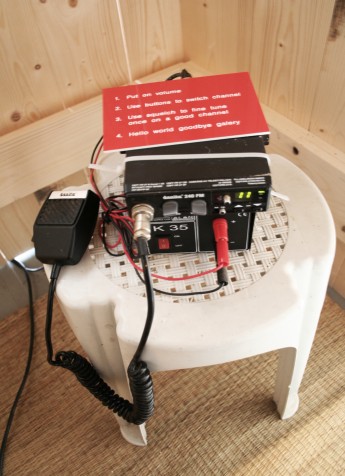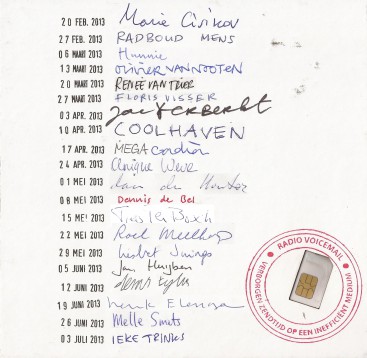 vlorisfisser [at] gmail [dot] com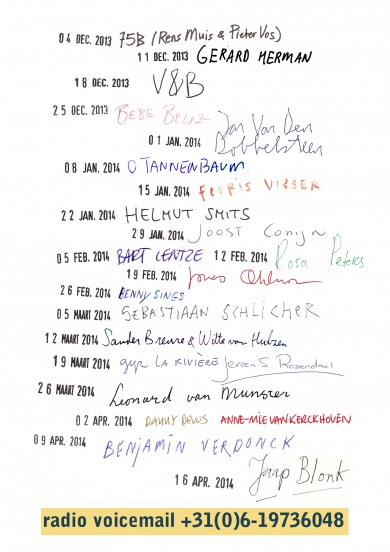 Radio Voicemail has been the 5 yearlong annexation of a voicemail box. By reconfiguring the technology's capacity to record a two-minute greeting, the voicemail became a medium of its own that would host new audio interventions weekly. Over the course of 5 years, I invited 81 artists to reflect on the inherent lo-fi conditions of telecommunication and some its increasingly obsolete assets. The 2-minute phone call pieces (poems, noise, reports, performances, soundscapes) were each accessible for 1 week, by calling 061736048. To contrast the ephemeral nature of the project, I made a series of concrete 'posters' showing the names and dates of broadcast, that hang on the wall of several art institutions. An employee of the institution would grind away past episodes as soon as a new one aired.
In 2018 the full archive was reissued, using a new telephone number, which allows for navigation through all episodes. This telephone number, the artist's names and instructions are engraved in Resopal, which functions as a final publication of the project and is sold in shops.
Radio Voicemail was supported by Worm Parallel University, Mondriaan Fonds and the municipality of Rotterdam. The poster performances happened at Worm, Extrapool, De Fabriek, OT301, Redlight Radio, Mediamatic, Paradiso, Roodkapje, W139, Nest.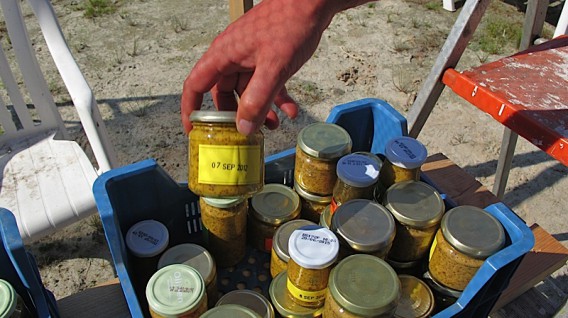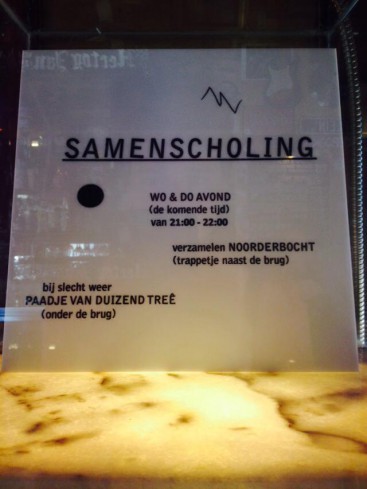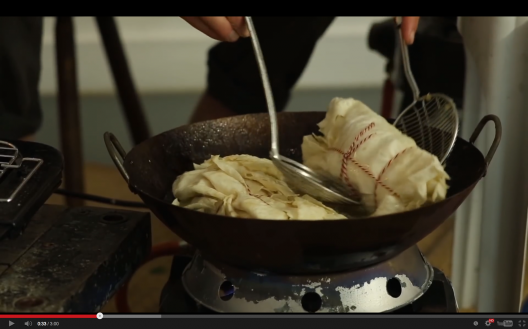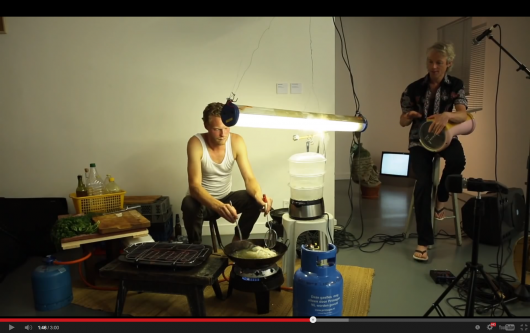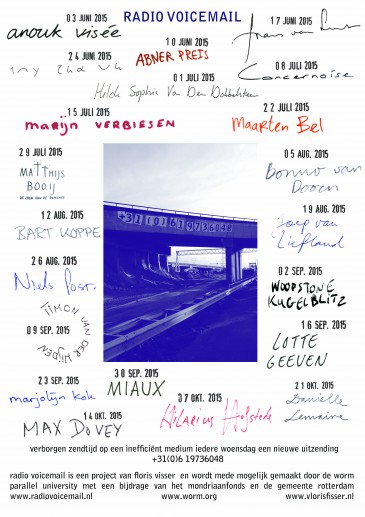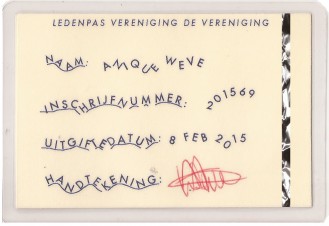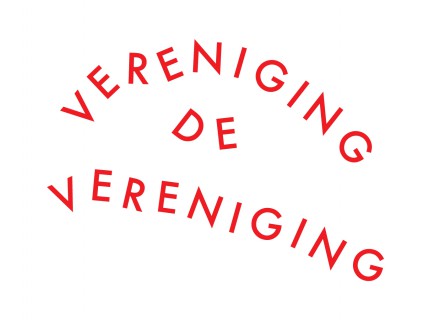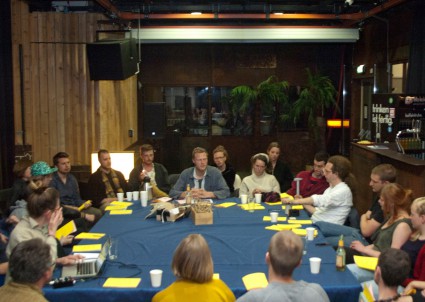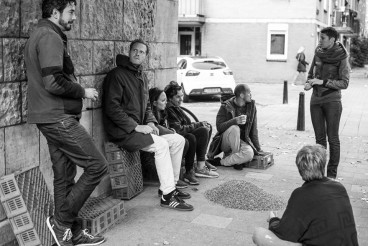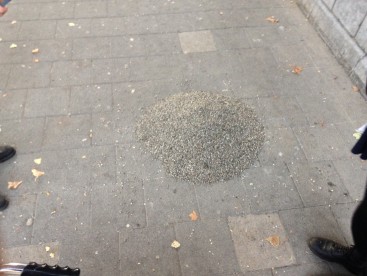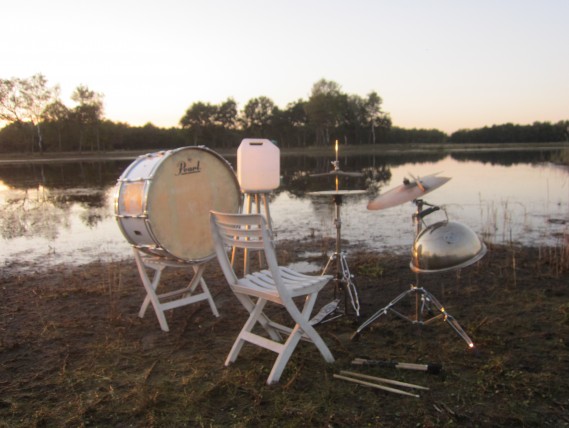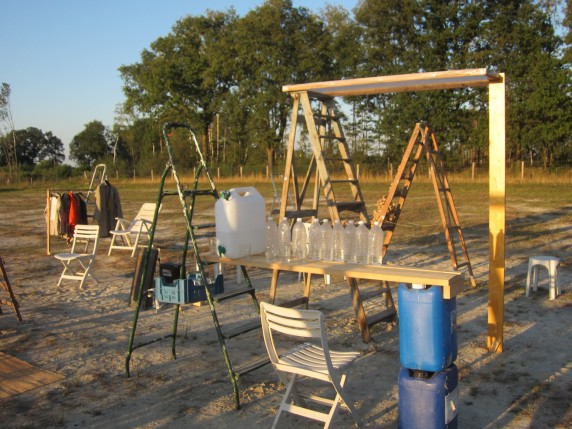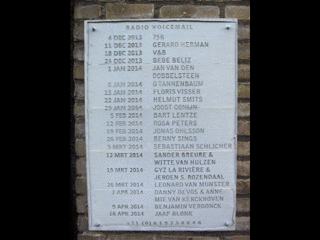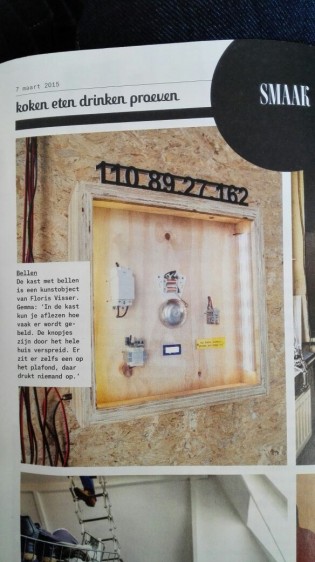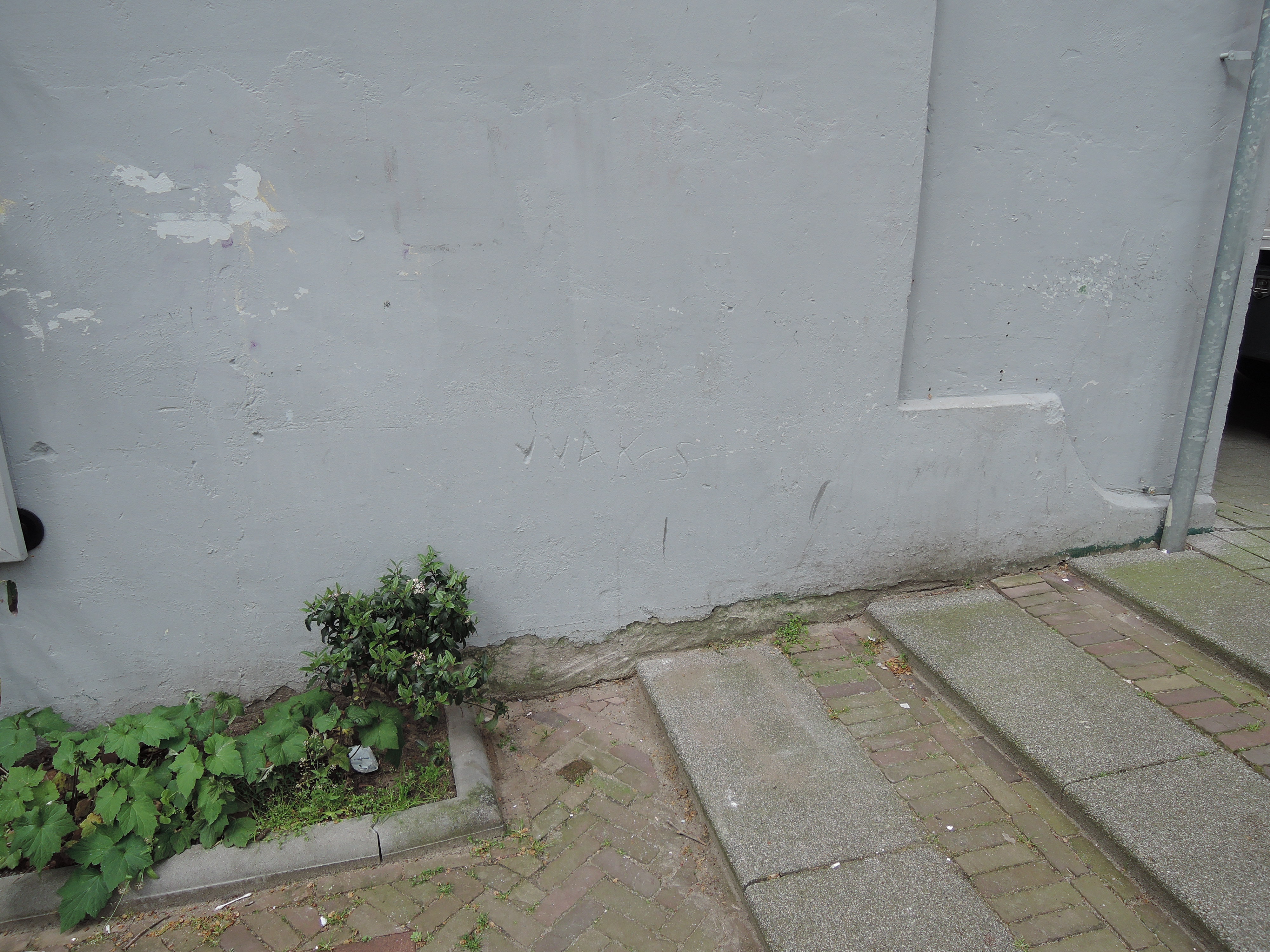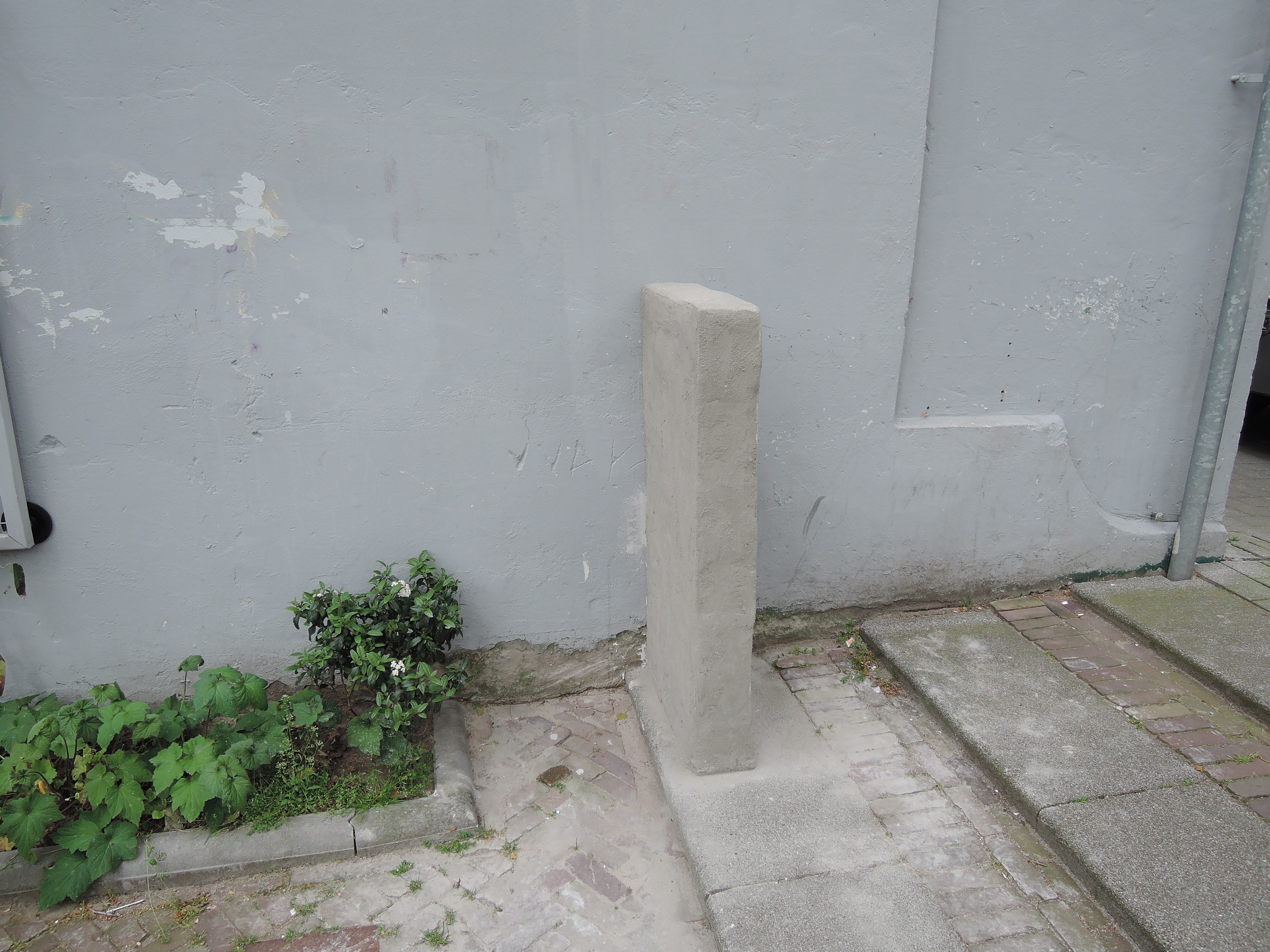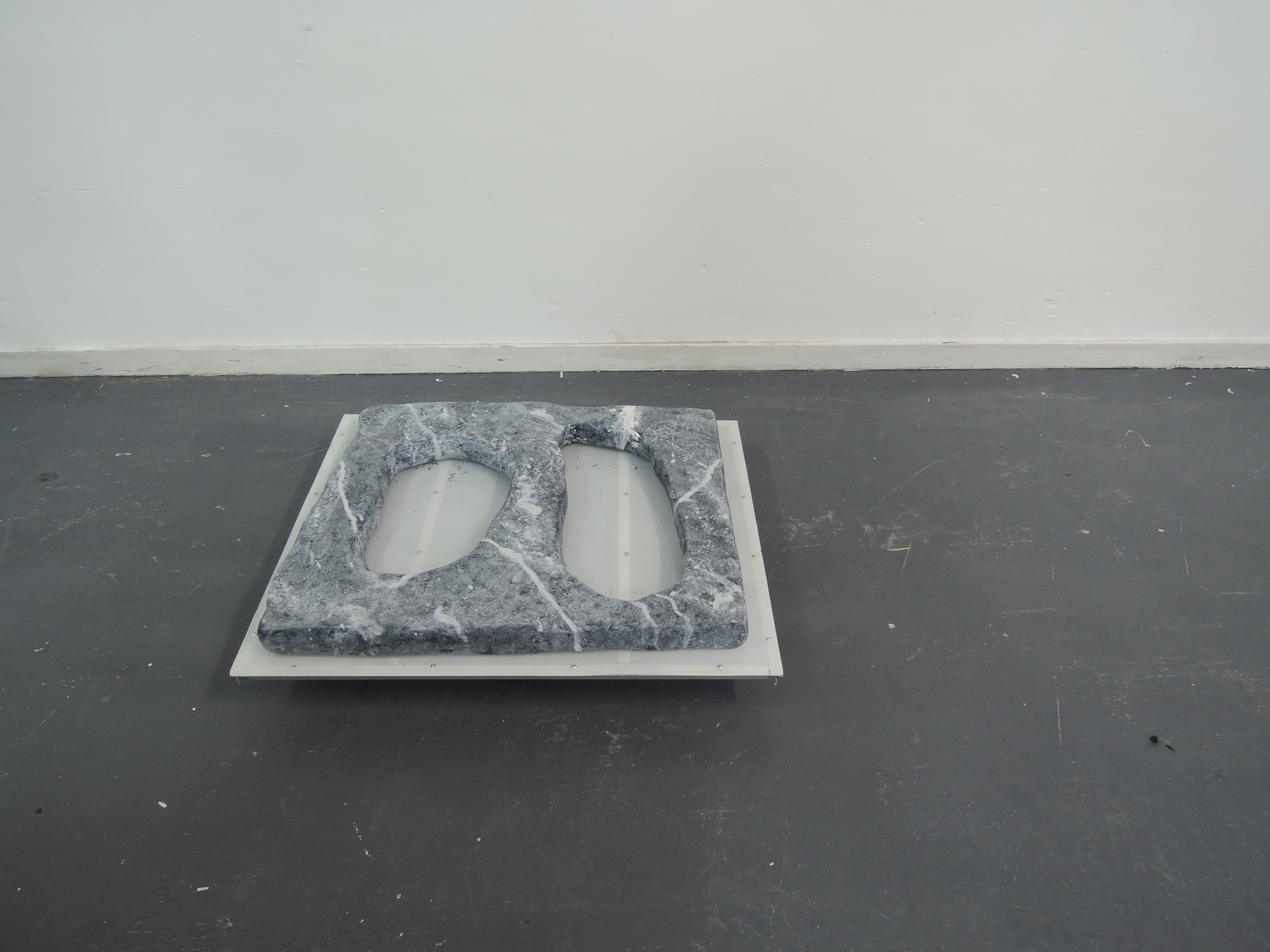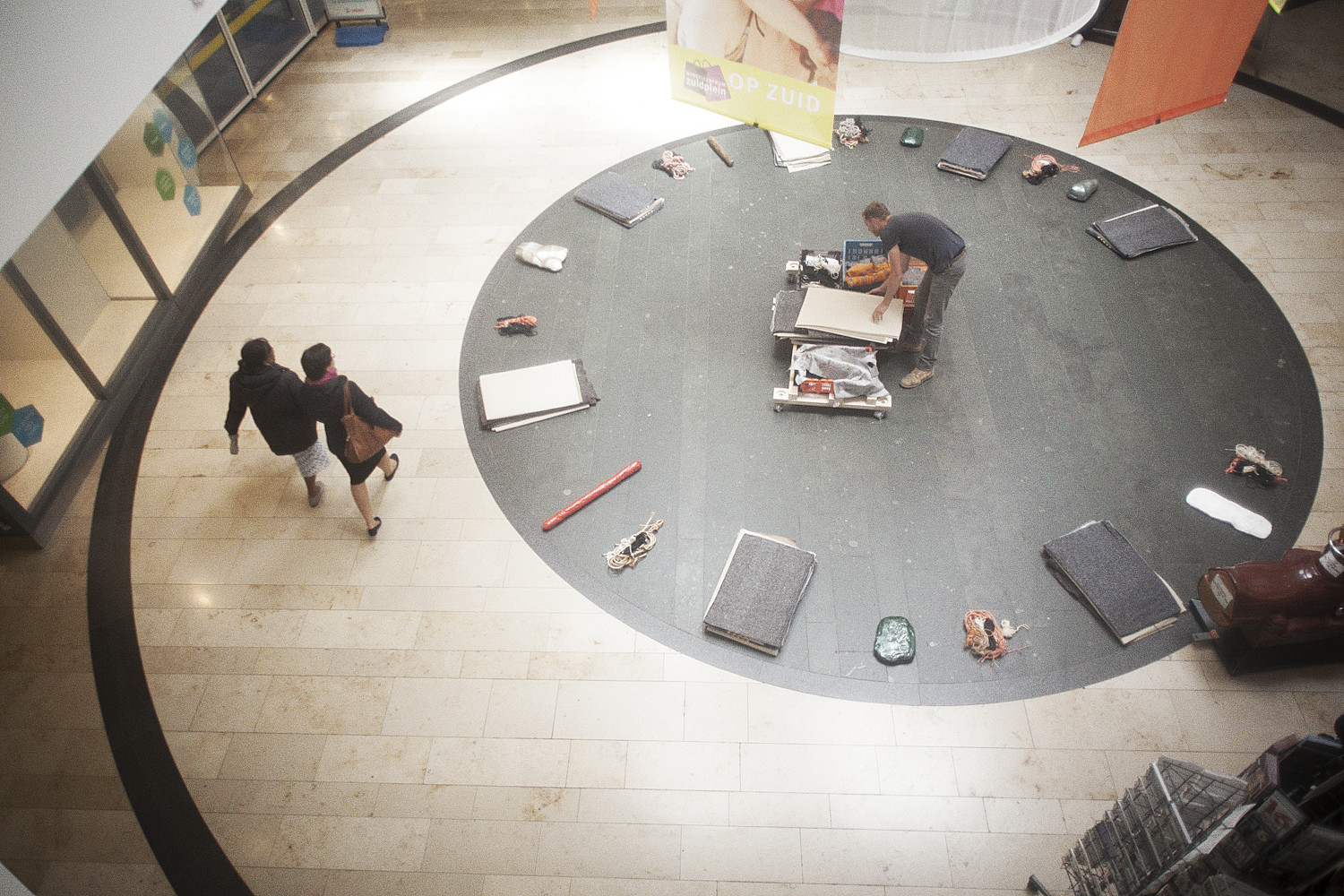 On Walls, holes and bricks, 2017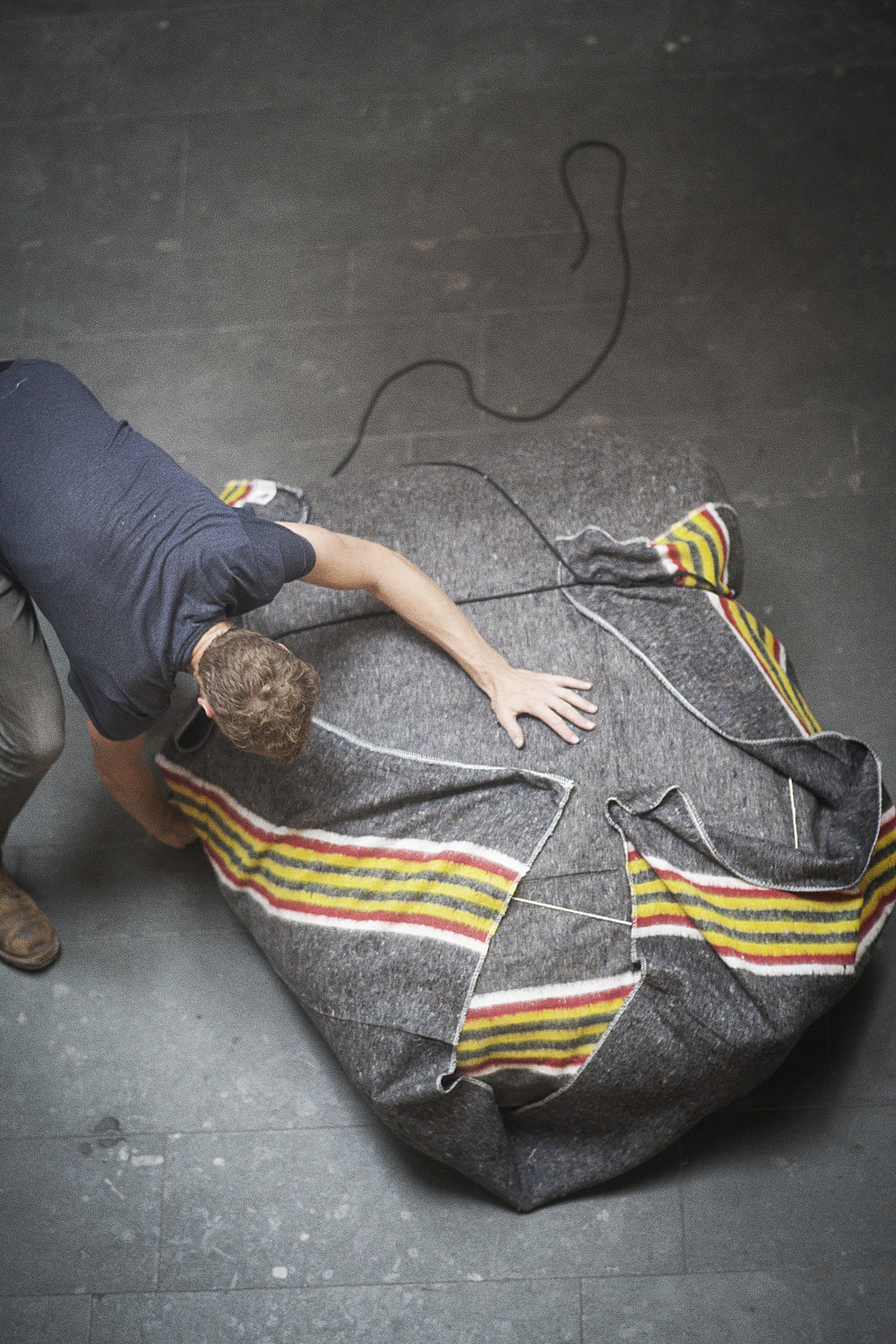 No time is not eternal. Stroll, no sleep. Sao Paolo, 2016.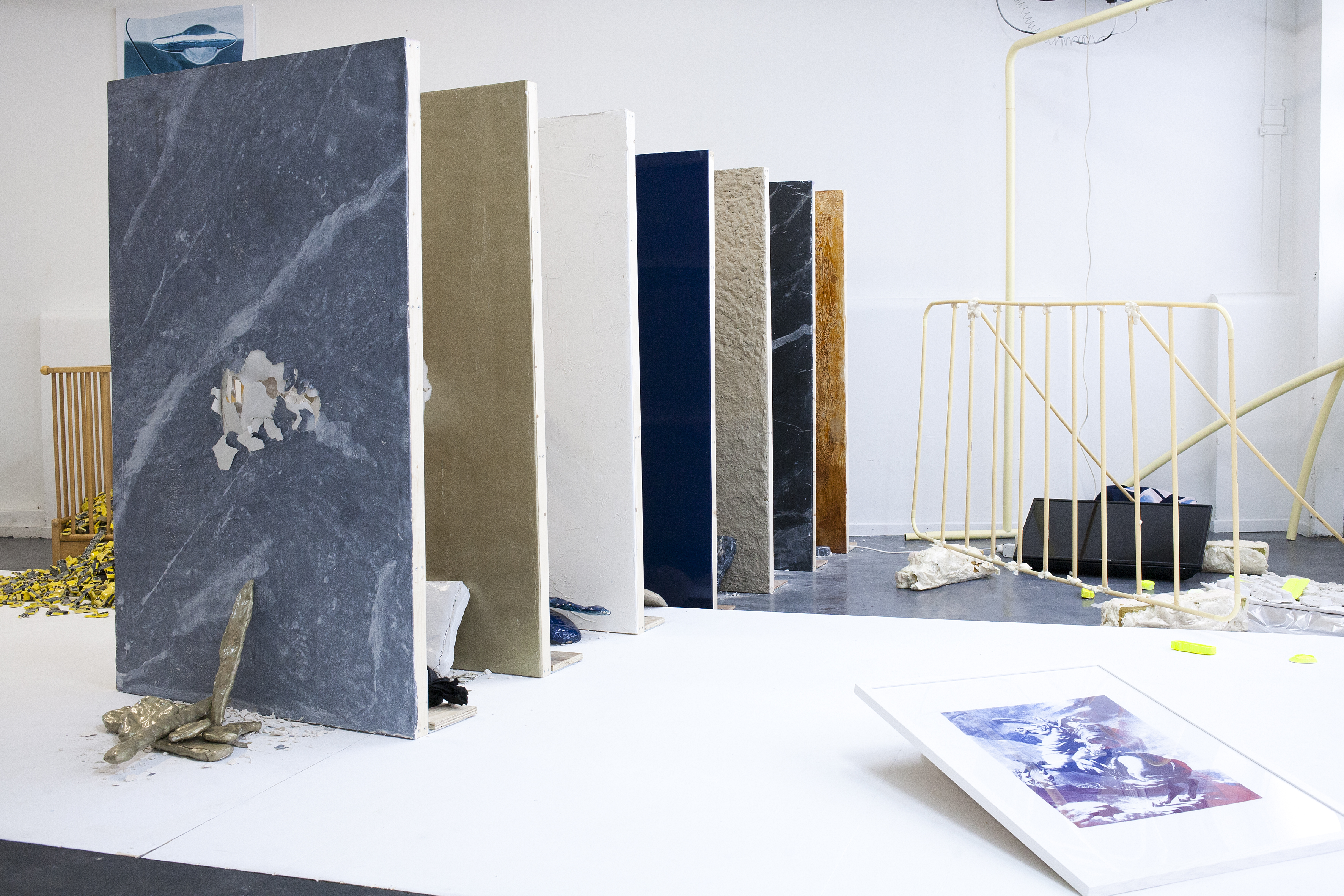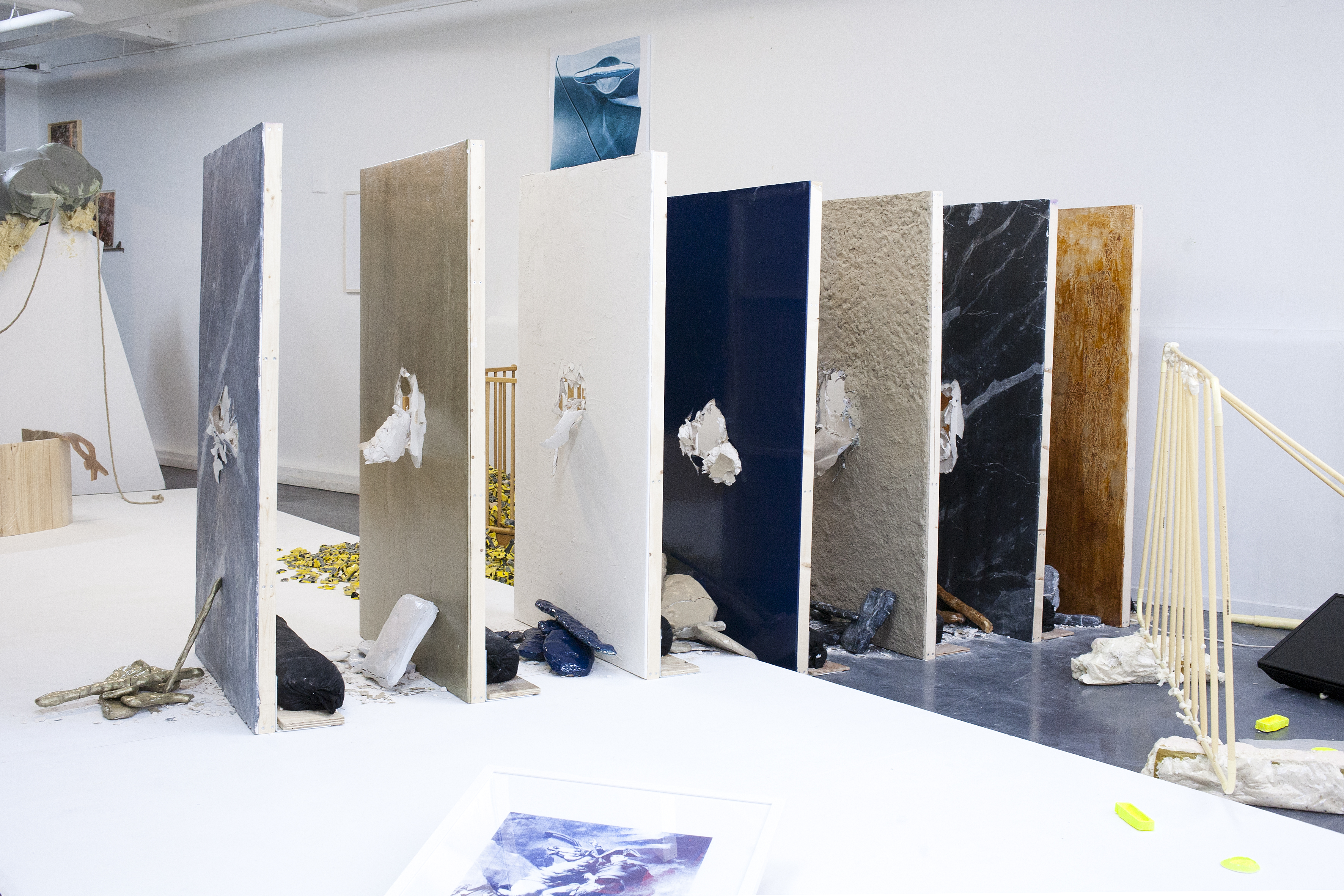 The return. Faux techniques, plasterboard, castings, 2016.
The bale. 2016

Cafe Hallo. Costumes, soundscape, script, mustard gift. Sideways Festival 2012.
Every -ism fits in a bag. Repetitive cooking, mixed techniques. Tent, 2015.
The exercise of loitering. 2016.
People, bridge, sunflower seeds. Fireworks.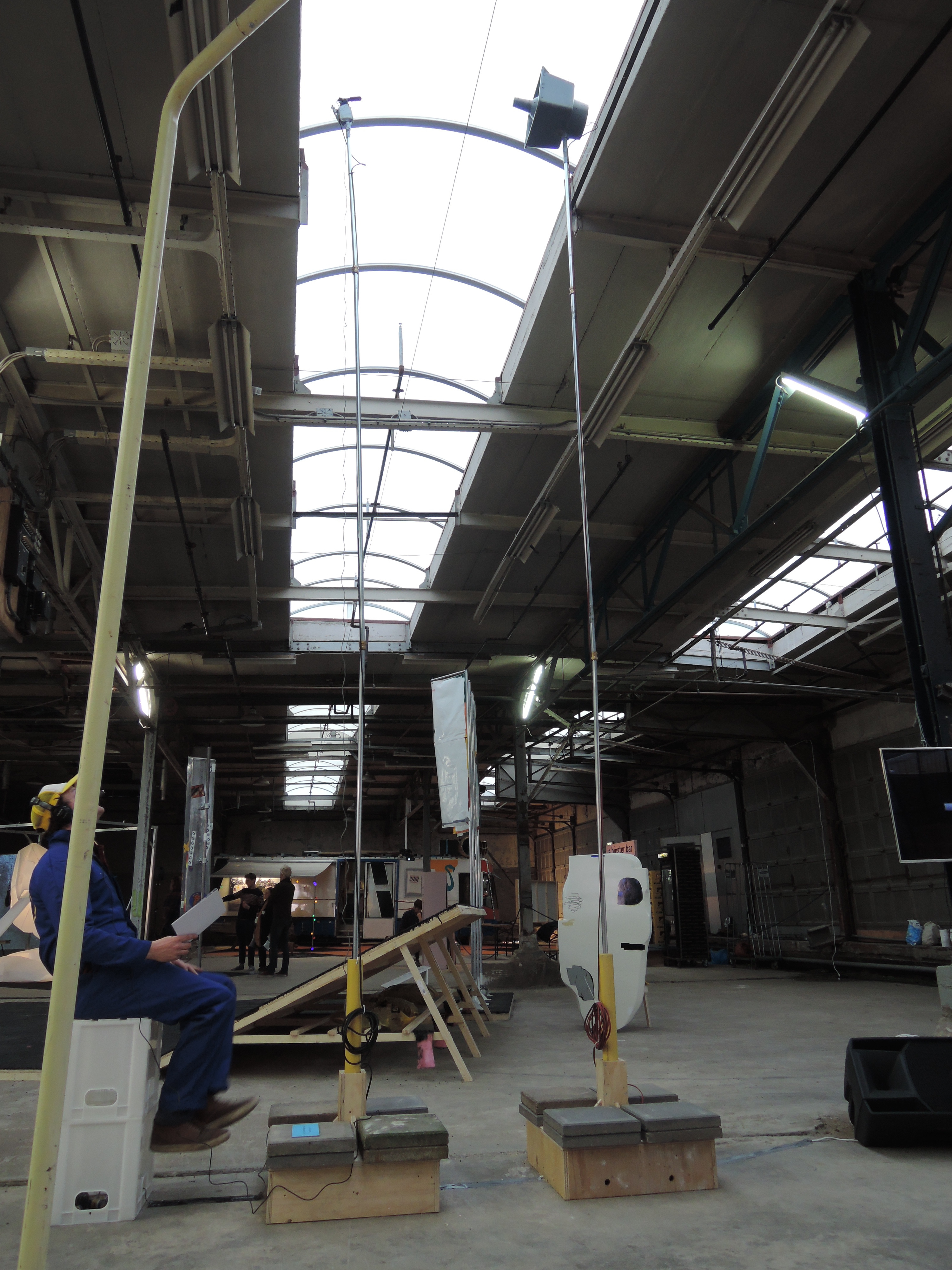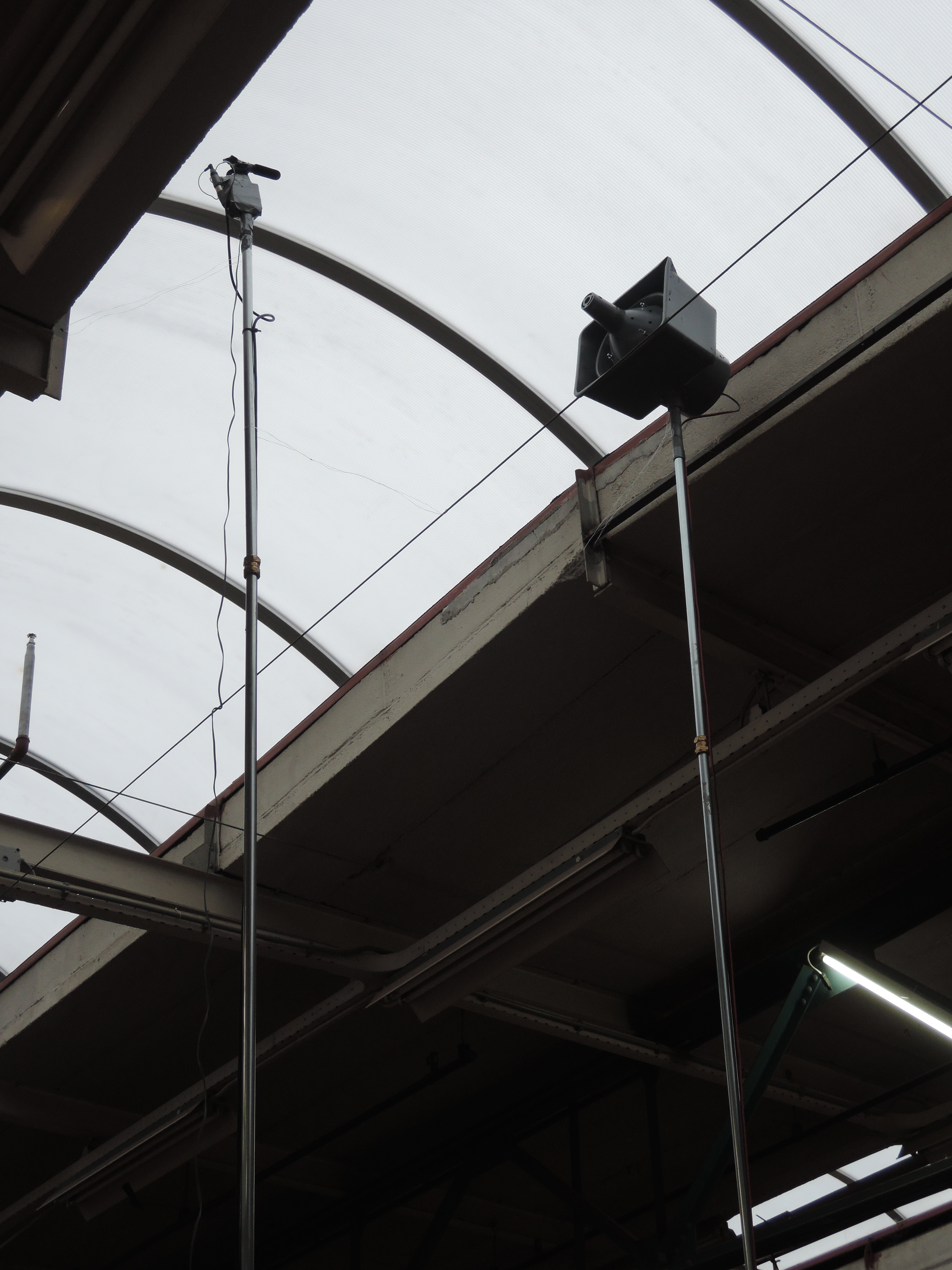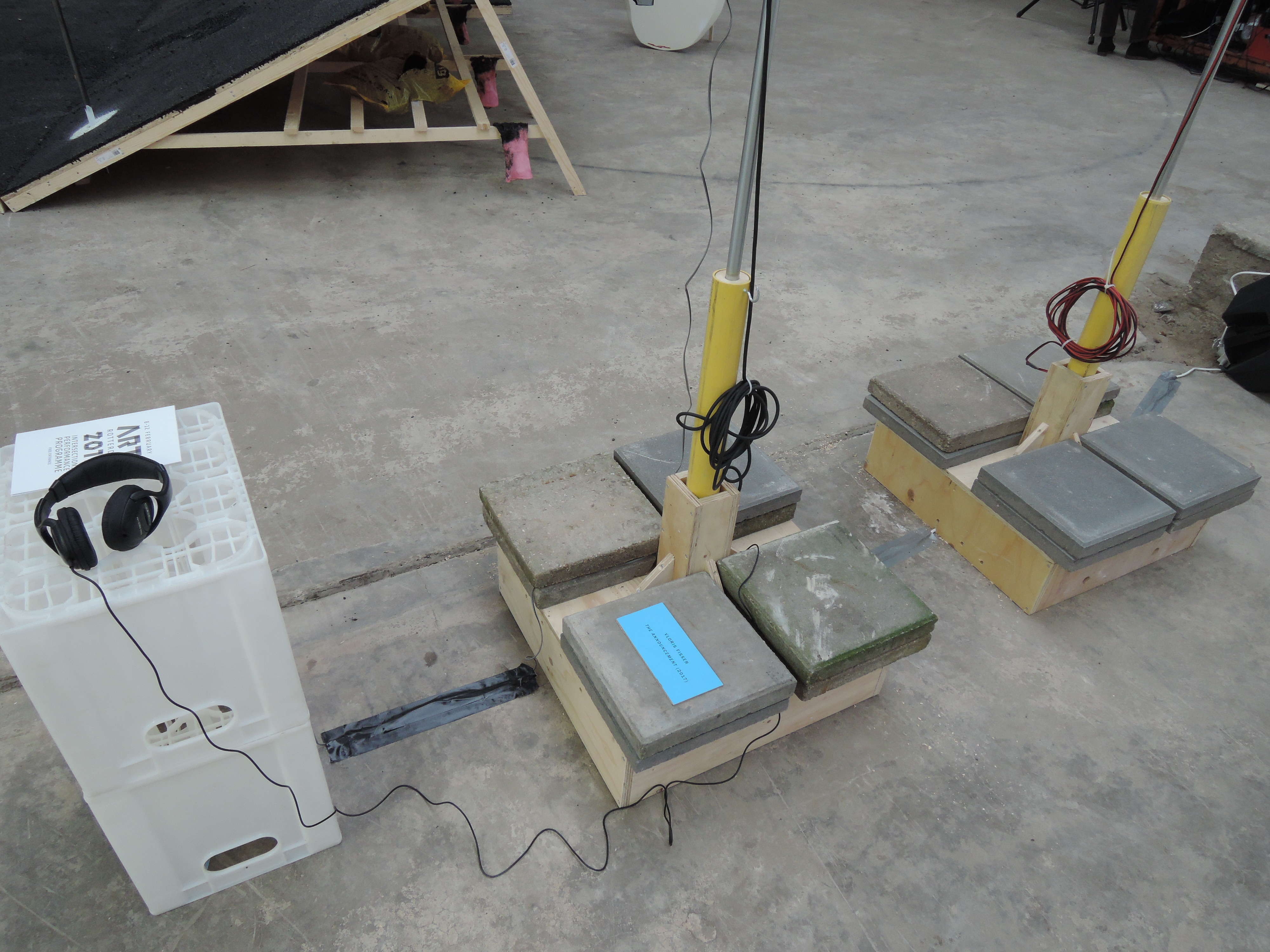 The announcement. Art Rotterdam, 2017.
Microphone, speaker, headphones.
www.verenigingdevereniging.org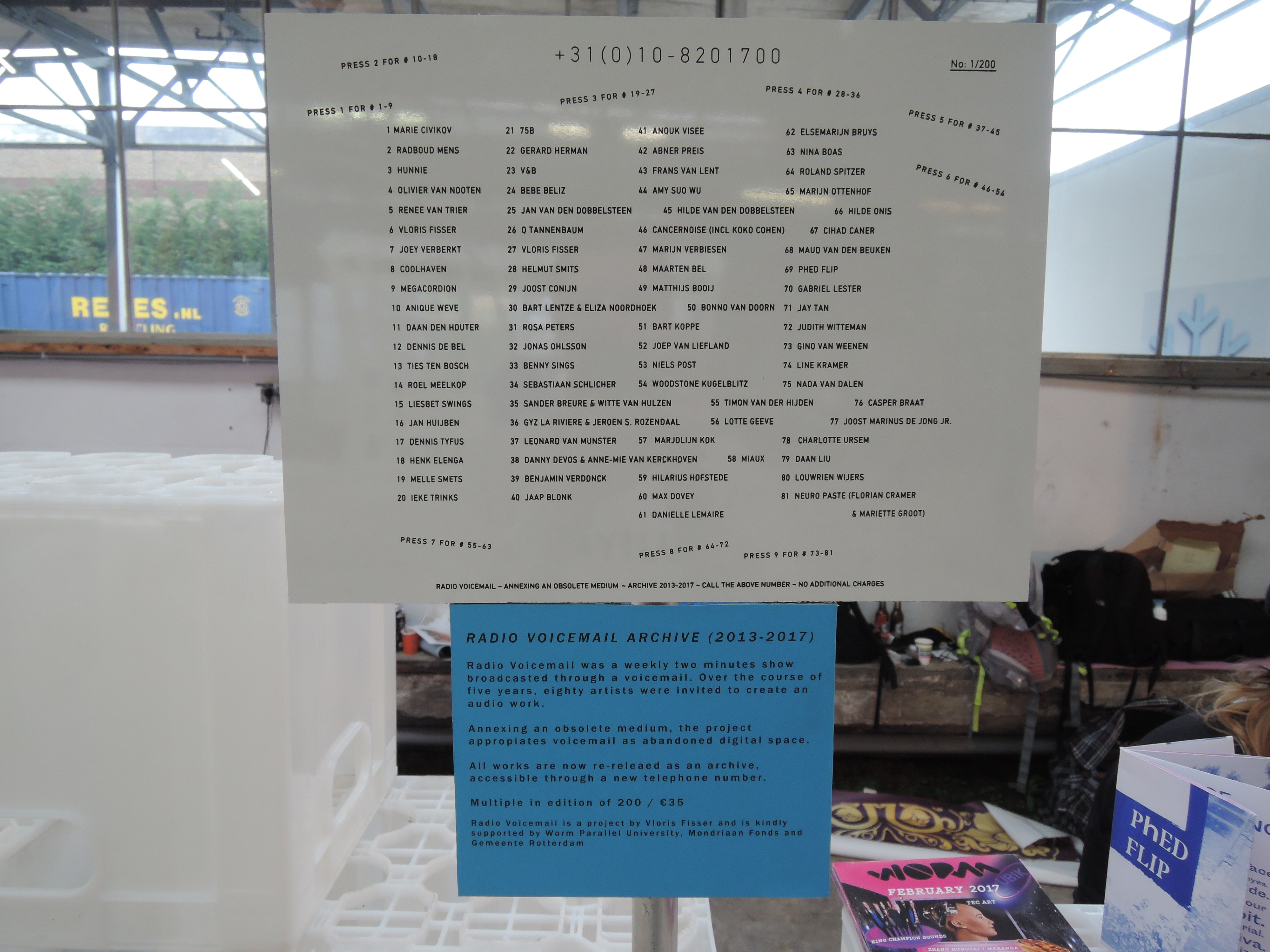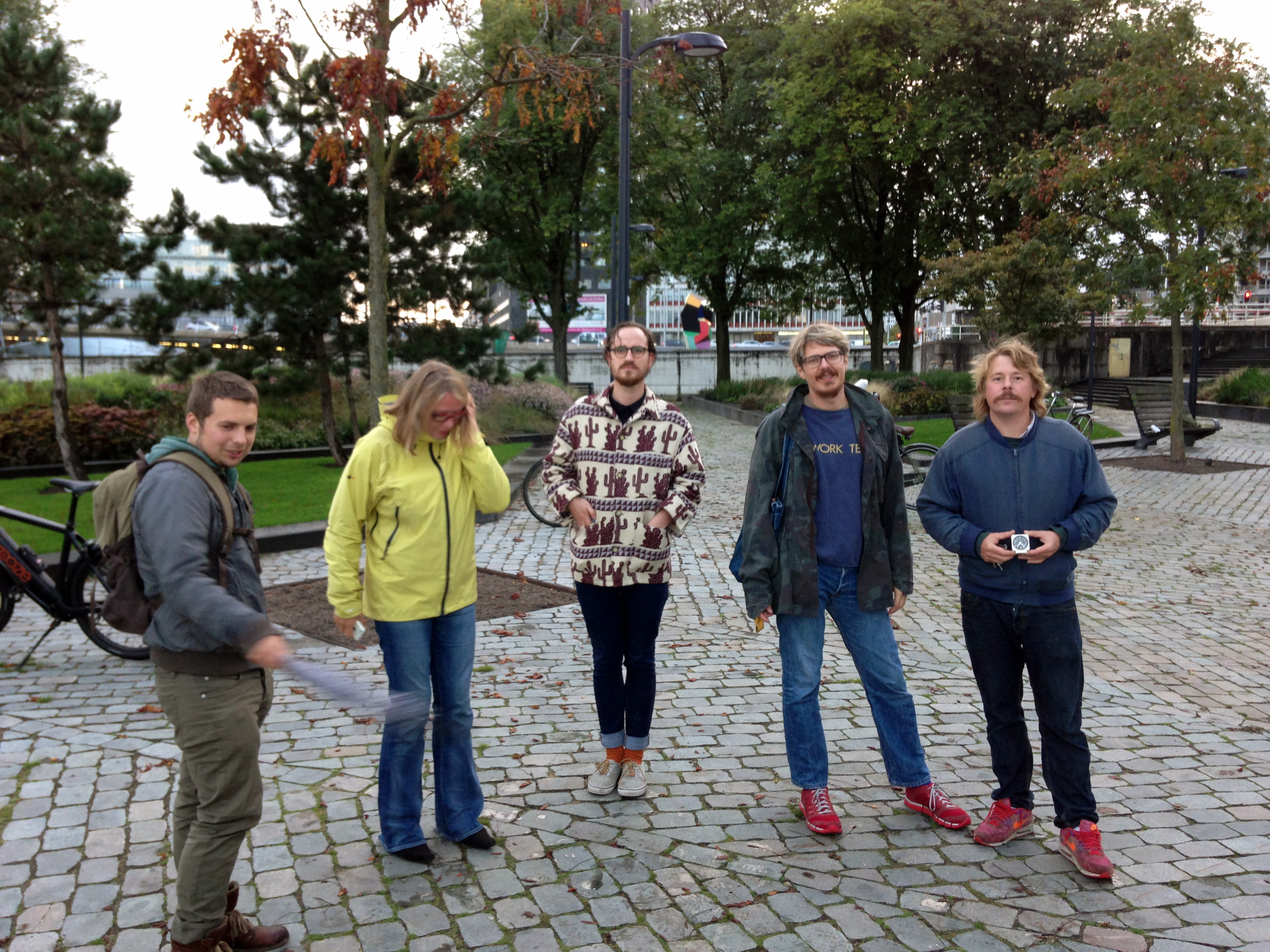 Cafe Hallo. Sojourn, fire, participants, durational performance. Remzuat, 2012.

Ringing. 2012.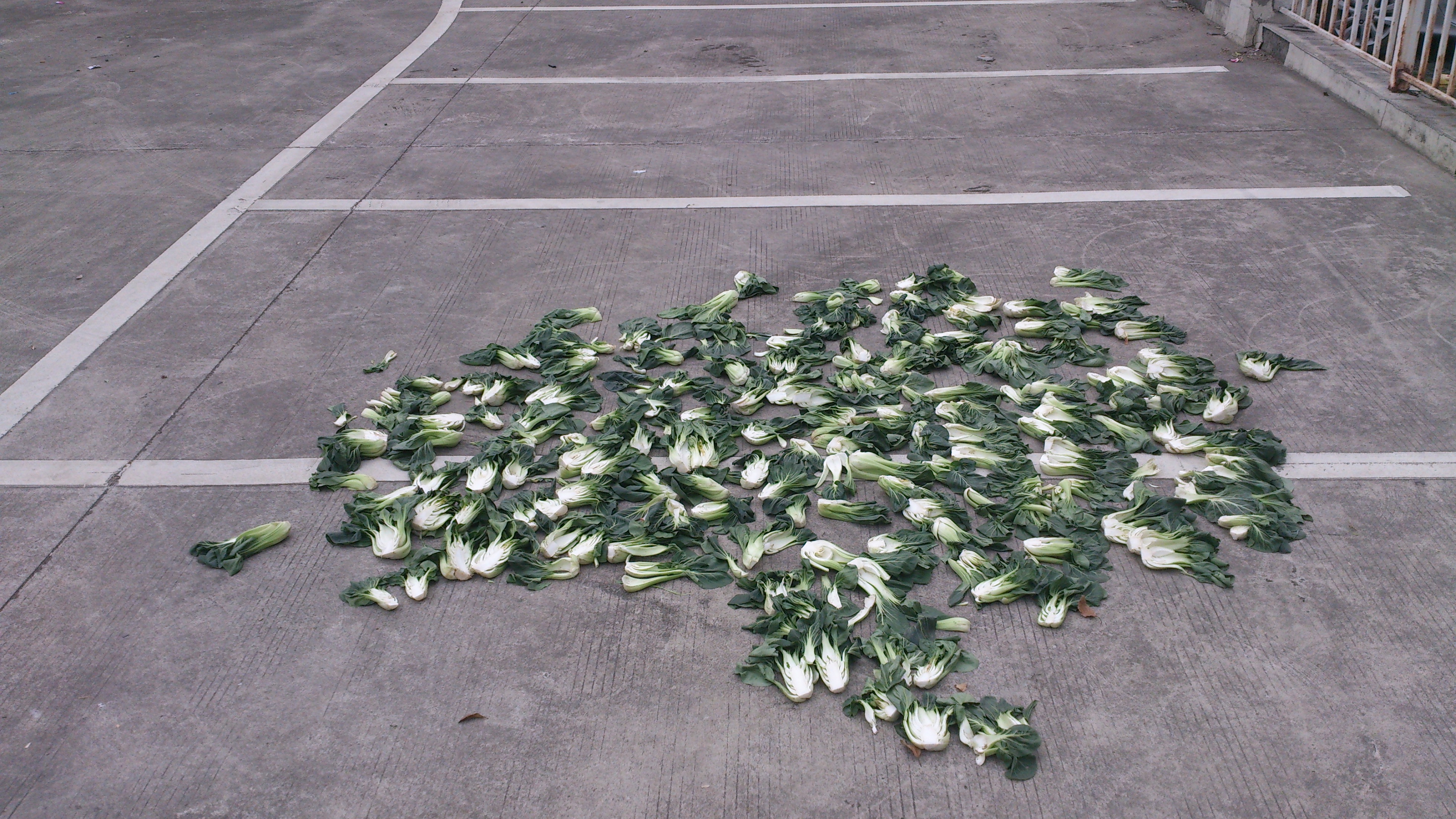 The heat, 2015


cv
writing
home
The Bale. Blankets, shopping mall, ropes, castings. Performance Art Event, 2015
Inspired by Jo Freedman's text The Tyranny of Structurelessness, The Registration of the 60 minutes phenomenon is an audio piece capturing approximately one hour of a ticking clock. The clock is situated in a room together with a blindfolded listener, whose incidental coughs and moving of the chair are audible in the recording as well. As a globalized unit of time, the 'hour' has become embedded in our bodies with such accuracy and force that we are able to physically tell an hour without a clock. Rather than protesting against the biopolitical effects of a modernist administrative regime, the work explores how administration and affect can melt together and how notions of culture and biology intertwine.
My artistic practice is divided between what I would call cultural production on the one hand and research and development of public progress on the other. The latter traverses the expanded field of art, and understands art as a means, not just and end. I'm particularily interested in speculative strategies, urban futures and institutional agency. Currently I'm working on Public Food, a project that investigates, through a methodology of actionable speculation, how to reconfigure unsustainable and unhealthy infrastructures of consumption. This investigation finds expression in the development of a model for plant-based utility eateries. As a means of providing affordable, equitable and inclusive food access in our living environenments. The model is not one of charity, but seeks to mainstream healthy and sustainable food access into public policy.
Vereniging De Vereniging roughly translates from Dutch as 'The Associative's Association'. Using the formal framework of a vereniging, the project seeks to establish a new social scenario that lacks any agenda other than maintaining the group. Members don't convene on the basis of shared interests, a tennis-court, or musical preference, but join the vereniging to collectively explore its mechanisms and potentialities. By enacting a wide array of group aesthetics and activities in the moments we meet, (walk, silence, discussion, time constraints, endurance, loitering, trips) we attempt to find the minimal conditions required to continue becoming a group, while never arriving at a fixed being. Such a moment could be considered a social threshold; balancing between the emerging of some form of kinship, without the identity politics, so explicit in our times. By the end of 2016 Vereniging De Vereniging had over a 100 members.
For my graduation lecture-performance at the Dutch Art Institute, I reflected on the way contemporary subjectivity is constructed. Following my thesis, I adopted the term motivationalism to describe the ramifications of a globalized self-optimization regime in which motivation is capitalized as socio-economic asset, and no longer of intrinsic value. The problematic aspect of such is that systemic wrongs are turned into personal troubles that motivation can help overcome. I took the occasion of leaving school to rethink graduation into a collective rite of passage that celebrates the politicization of knowledge and education, beyond careerist tendencies.

Full 15-minute video registration:
https://dutchartinstitute.eu/page/9137/2016-2018-floris-visser-do-we-really-want-to-be-free

Do we really want to be free / Take care in beholding the self. Lecture-performance, 2018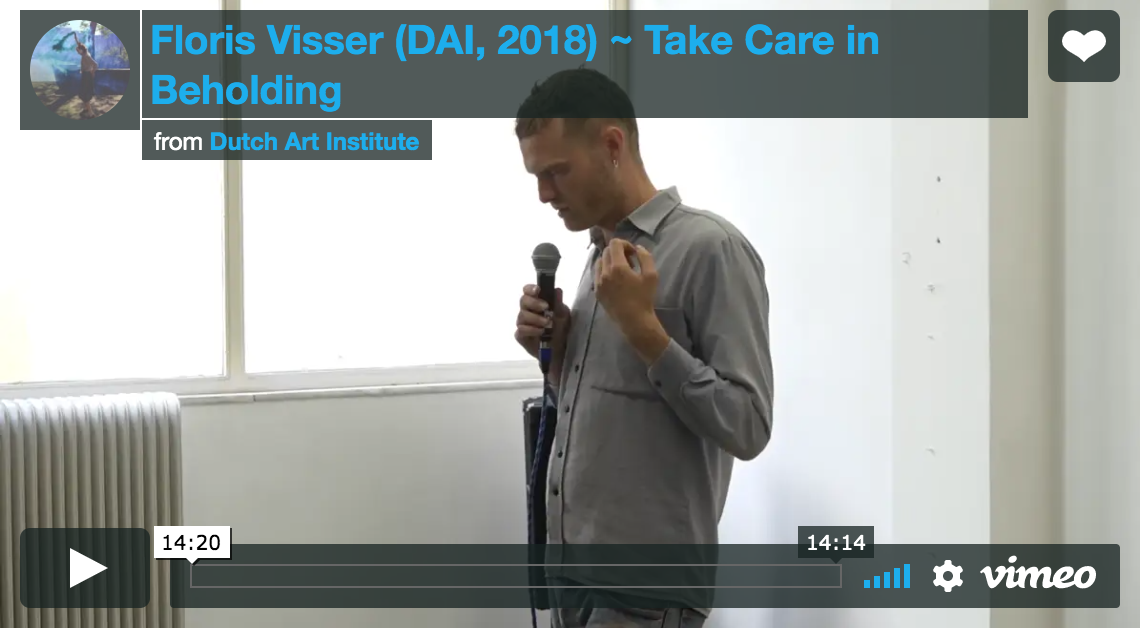 www.radiovoicemail.nl
With regards to artistic practice as cultural production, I primarily engage with questions on how social history repeats itself, focusing in particular on the recurring structures in how we organize ourselves collectively. This research materializes in the form of public interventions, new social scenarios and performances and often comes with an aesthetic of modesty. Such modesty has less to do with advocating passivity or refusing spectacle, but often helpes to open up a working relationship between old and new conditions, structure and agency, local knowledge and universal habits, in order to learn how they fold into each other time and again. I prefer the general, the protocol, standardized technologies, the cliché, the script and the contract as forms of language that shape our social infrastructure.